Early Master Guitars
Showing all 7 results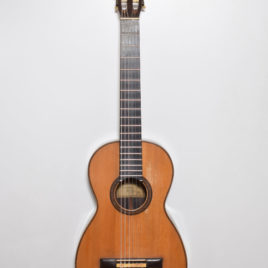 Antonio Torres 1857 Tornavoz [SOLD]
Guitar made by  Antonio Torres
Year:
1857
Body:
South american rosewood
Front:
European spruce. There is a brass tornavoz in the soundhole.
Tuners: 
the very nice silver tuners were added by Enrique Garcia
Scale:
640mm with 19 frets on the ebony fingerboard.
Neck Width:
50 mm at the nut
Weight:
Condition:
This Antonio de Torres 1857 guitar condition is very good. The head, neck, sides and front are in really excellent condition for its 162 years. The back is in Brazilian rosewood.
Price:
[Guitar Sold]
not rated
Read more