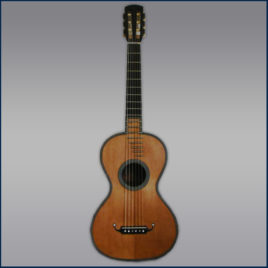 Nicolas Legros 1835 guitar
GUITAR by NICOLAS LEGROS DE LA NEUVILLE, PARIS, CA. 1835
Printed Label reads: Rue des Lavandières Sainte Opportune, No 4 ,
AU DEUXIÉME. LEGROS, LUTHIER, ANCIEN OUVRIER DU SIEUR LACOTE,
"Fait tout ce qui concerne son état, au plus Juste prix."
A PARIS
This is a rare and finely made guitar, very much in the style of Lacote, with solid satinwood back and sides, ebony and ivory multiple purflings to the belly. It retains its original fretboard and frets (except the 12th which is a later replacement).
Legros is recorded as a publisher of music and luthier to the opera in Paris. He claims to have previously worked for Lacote on his label (see transcription). This is the first guitar by this maker that I have encouontered.
The dimensions are: stringlength: 624mm; Length, body: 425mm, max width: 290mm; the sides are quite deep at 83-90mm and the body overall resembles the slightly larger Lacote model frequently seen the early 1830's.
The ebony bridge is original, as are the small wood screws that fix it to the original bridge plate. This technique is sometimes found on instruments that were built to be sent to hot or humid climates such as the French colonies of the time.
This guitar came to the current owner through a friend, who was given it by the grandniece of the virtuoso violinist, Joseph Joachim, shortly after World War II, when she was in Edinburgh. It would appear to have been brought to Scotland by the Joachim family, who immigrated shortly before the war to escape persecution.
The guitar is generally in excellent condition for its age and is fully playable. The neck is straight and the action good. The tone is strong, clear and "nutty" a very attractive and responsive guitar to play.
It has had some repair work to the neck, carried out in England around 1850. The fitted case is English and the head, which seemed to be based on the original is also English, as were the tuners.
The heel of the neck is solid ebony, fitted to the ebony veneered neck. A small repair in the heel has been filled with ebony and is almost invisible. The dovetail had also been damaged and this has also been restored (see photos for more detail). There is a well repaired crack in the treble side, the back being in good condition and the belly with 4 small, repaired cracks, all in good condition. The case is English, ca. 1850 and was built for this guitar. It has been fully restored in the workshop and is in very good condition.
not rated
8,500

€
Add to cart